Speculative application sample PDF and Word 2020 free download
With a speculative application, you can land your dream job and leave the competition behind. How do you do that? It's simple: by not waiting for a suitable job advertisement to appear, but by taking the initiative beforehand. However, if you want your speculative application to go down well, there are a few things you should keep in mind. On this page you will learn:
which preparations are necessary for a speculative application
how to convince with your cover letter all along the line
Which documents you need
Which special features should be taken into account in the speculative application process?
In addition, we present herefree sample templatesfor yourCurriculum vitae as PDF and Word, theCover letterand theCover sheet free to download as PDF and Wordavailable.
IPSER, Inter Personal Service
Your cover letter as a commercial employee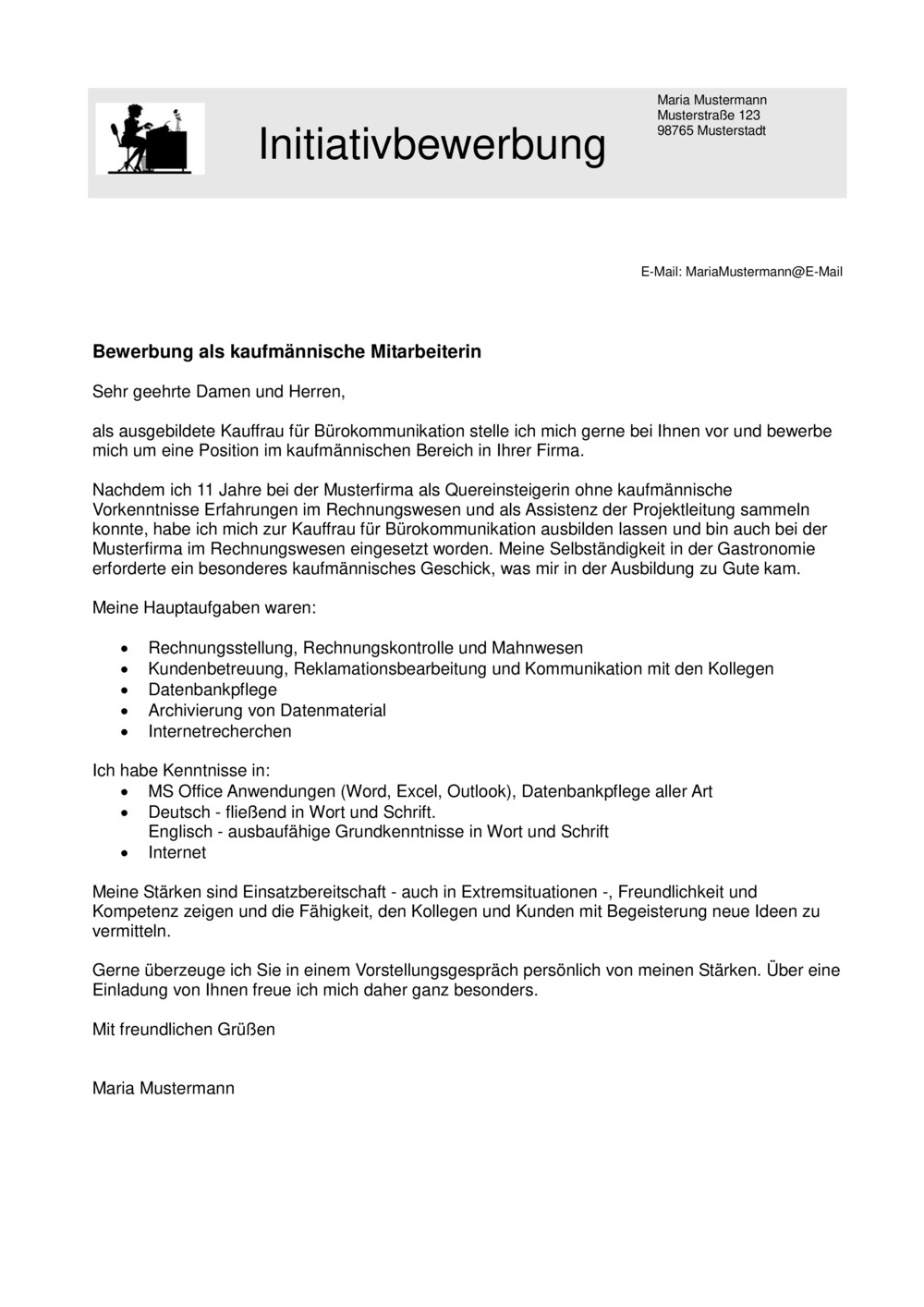 IPSER, Inter Personal Service
Cover sheet clerk speculative application Adelina 624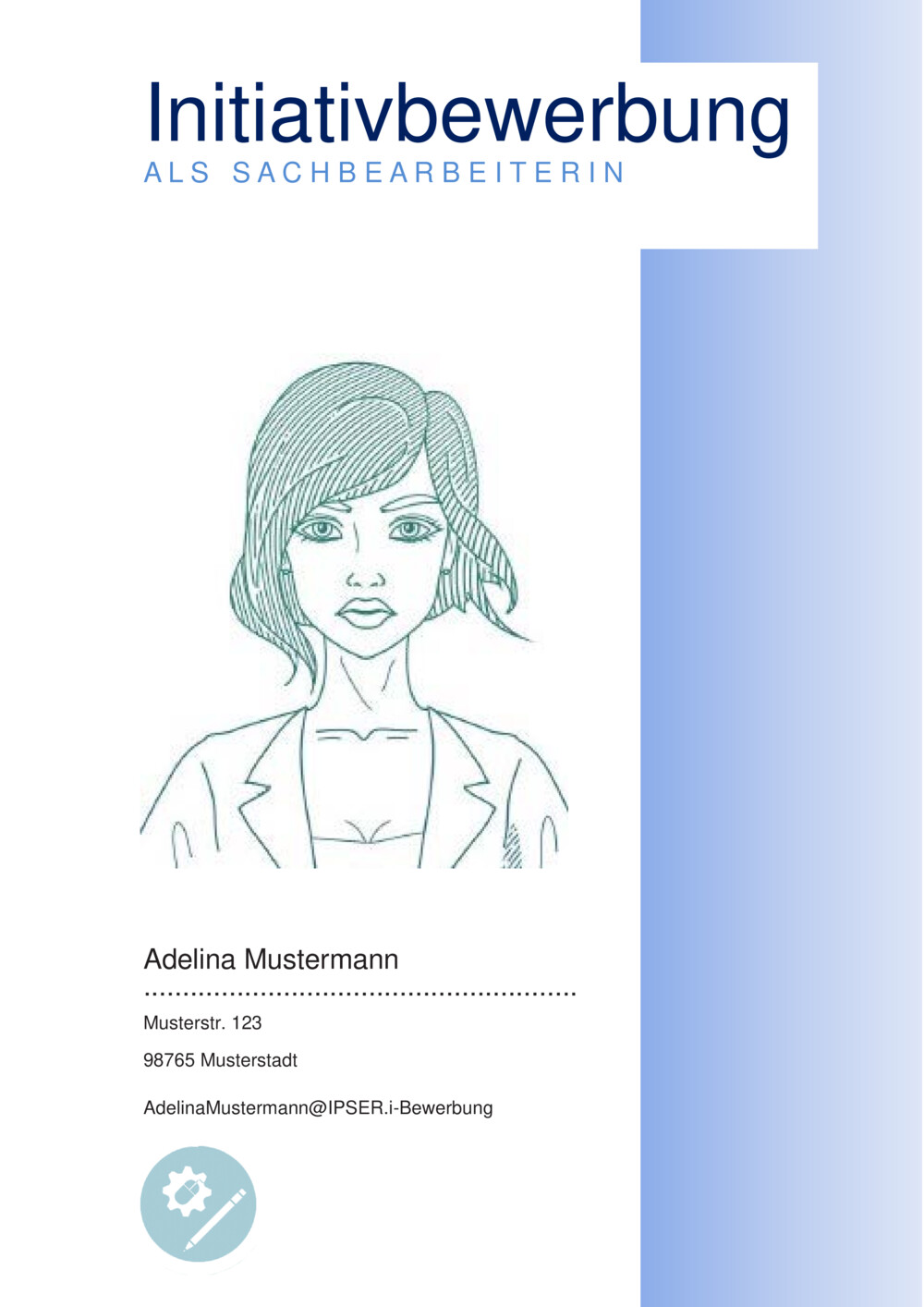 IPSER, Inter Personal Service
Tip 5 Formatting CV (Tabs) Sample 551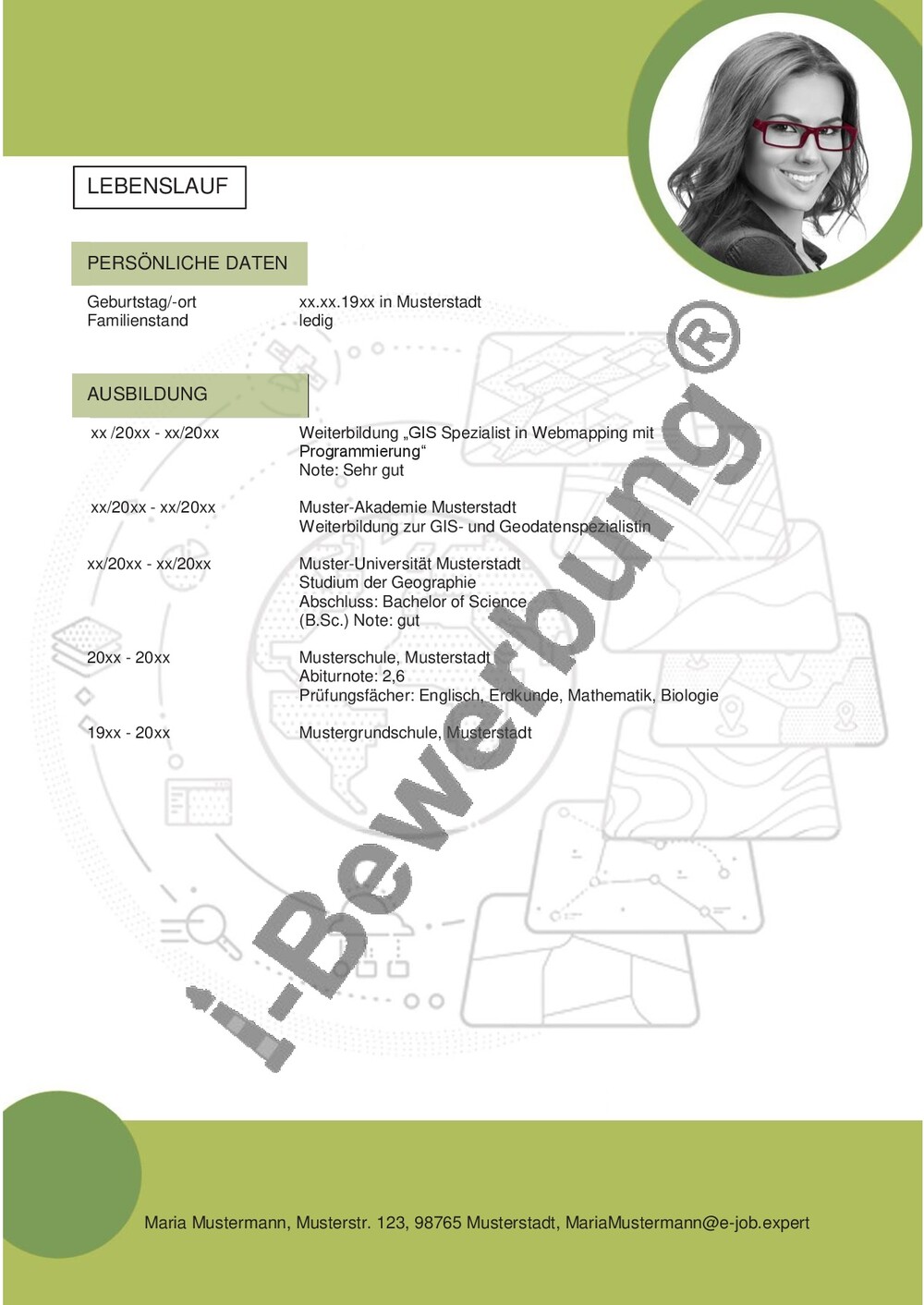 How do speculative applications work?
Classically, an application is made like this: A company is looking for an employee for a specific position and formulates a public job advertisement to which employees can specifically apply. A speculative applicationHowever, it differs from the classic application in three important pointsThese should be taken into account especially when writing the cover letter and the application procedure:
Concrete staffing needs:In contrast to a classic application, applicants with a speculative application do not know whether there is a concrete need for personnel at all. Since the company has not advertised any or no suitable vacancies, it is unclear whether the company is even willing to hire new employees.
We distinguish between the generally known speculative application and the i-application practised at IPSER.
If you are applying to a specific company on your own initiative, you must inform yourself in detail about the company in advance and tailor your cover letter and profile to the company's requirements. Here it may be advantageous to find out a specific contact person.
It is different with the i-application. Here you apply to a large number of companies with your unadjusted profile. You only know the industry and the postcode area of the company - no more and no less. The potential employer, on the other hand, learns everything about you and can decide whether they want to meet you based on your knowledge and skills.
The advantages and disadvantages of speculative applications
In the age of job portals and online job boards, applicants have more options than ever to find their dream job. However, if you are waiting for a suitable job posting, in most cases you are competing with dozens if not hundreds of other applicants.
In addition, often only 35 % of all vacancies are filled through official job advertisements. And these are not always the most attractive in every case. Those who do not have sufficient contacts to headhunters, networks and relationships usually have no chance of getting hold of one of the coveted jobs on the hidden job market without help.
The i-Application with IPSER gives you clear advantages. This includes a cover letter that has to have it all and, for many professions, a qualification profile. Ultimately, the aim of your speculative application is that youarouse interest in you as a person even without a job offerand be invited for an interview.
Advantages
Disadvantages
The chances of getting an attractive job on the labour market increase.
Disadvantages of the usual speculative application: A usual speculative application requires thorough research, a lot of preparation and a precise presentation of one's own competences and goals. This makes it significantly more time-consuming overall than a classic application.
Since you are not applying for a specific job posting, there is less or no competition from competitors.
In the i-Application with IPSER
you must of course also focus on your competences. With your i-application, you may reach more interested companies than you can imagine and have to go through several interviews at short notice.
In a speculative application, you can decide for yourself which qualifications and skills you would like to highlight, as you are not bound by any specifications in a job advertisement.
Even if you are rejected, your chances remain good. Employers save your application in a candidate pool and contact you first if there is a suitable vacancy.
You show initiative and commitment on the job market: this makes a lasting impression on employers and sometimes leads to a job that is perfectly tailored to you.
Dual studies - a blind application is particularly useful here, because you will receive many invitations even as a young professional. Take a look at the application templates and examples. But don't send your application as a Word document ;) and go through all the checklists.
Speculative applications - the preparation
In the unsolicited application with IPSER, you need to present your motivation and highlight your skills and goals. Because your i-application is based on the fact that an employer wants to get to know you on the basis of your person and your skills.
Become clear about your strengths, qualifications and motives
Applicants need to know their own competences well and be able to prioritise them for a speculative application:
What qualifications can you demonstrate?First, of course, your concrete hard skills are important, i.e. what education you have and what additional qualifications you have acquired in the course of your professional life. Concrete experience in certain areas of work, such as project management experience or looking after a specific customer, also count here.
Where are your strengths?You may have excellent leadership skills, be a particularly prudent planner or be a sales talent. Your profile not only shows what you really excel at, but often also reflects which tasks suit you best.
Your motivation:An i-application is primarily about your concrete motivations, which the company being contacted should know. What are your goals? What tasks would you like to take on at your workplace? What do you want to achieve with your work?
Your added value for the employer:If you want to convince a company about yourself, you should be able to name the concrete added value that you offer the company with your skillset. How can you contribute to the company's success with your specific skills? Why are you the best person for the company?
Dos and don'ts - our tips for perfect speculative applications
With these tips, you invest your resources with success:
Dos
Don'ts
Compilation of your application documents
You have to convince the employer of yourself and your abilities. Accordingly, your documents must be informative. The rule here is: as long as necessary but as short as possible. A cover letter, CV, profile and, if applicable, an overview of certificates are ideal.
Use clichés
"I hereby apply for..." - "I am able to work under pressure and in a team..." These and similar phrases, which have been used a thousand times, have no place in any application. Especially not in a speculative application. After all, you want to impress people with your uniqueness and not bore them with generalities.
Get straight to the point
A speculative application is not addressed to a specific job profile. Therefore, it is all the more important that you get straight to the point with your application and tell the recipient directly what you are about. This also includes outlining as precisely as possible which department you work in, what goals you want to achieve and what tasks you would like to take on in the company.
Boasting and lecturing
Even if you have to convince by naming as many strengths and skills as possible in the speculative application: Keep your head down! You know what you can do, but you don't have to promise to reinvent the wheel.
Make your motivation clear
Your employer of choice should know what you can do for them. Therefore, be as specific as possible about what you can do for the company with your work.
Errors in the documents

In Anschreiben & Co. sollten keine Rechtschreibfehler zu finden sein. Lassen Sie andere Korrektur lesen oder geben Sie die Bearbeitung in professionelle Hände.
The cover sheet for your speculative application
If you are applying on your own initiative, your application documents must stand out from the others. An informative cover sheet is the best way to do this. Unlike the CV and cover letter, the cover page is not formally bound to any specifications: So here you have the opportunity,Make a good first impression with a personal touchand to provide the most important information about yourself.
It is important that the layout and the size of the sheet fit your profile and form a unit with the rest of your application documents. This applies not only to the choice of layout, but also to the information on the cover page.
What information belongs on the cover sheet?
The cover page is the teaser for your i-application: the recruiter should be able to find out here who you are and what you can do. The cover page should therefore always contain at leastYour full name, job title and a way to contact yoube depicted. A creative short profile with your most important skills or a personal motto complement this information and make you want to learn more about you.
It is important that you do not repeat yourself: if you decide to include a short profile on the cover page, it should not appear again in the covering letter and CV. Recruiters want as comprehensive a picture as possible of your skills; repetition will only bore them and give the impression that you have nothing more to offer.
IPSER, Inter Personal Service
Cover sheet clerk speculative application Adelina 624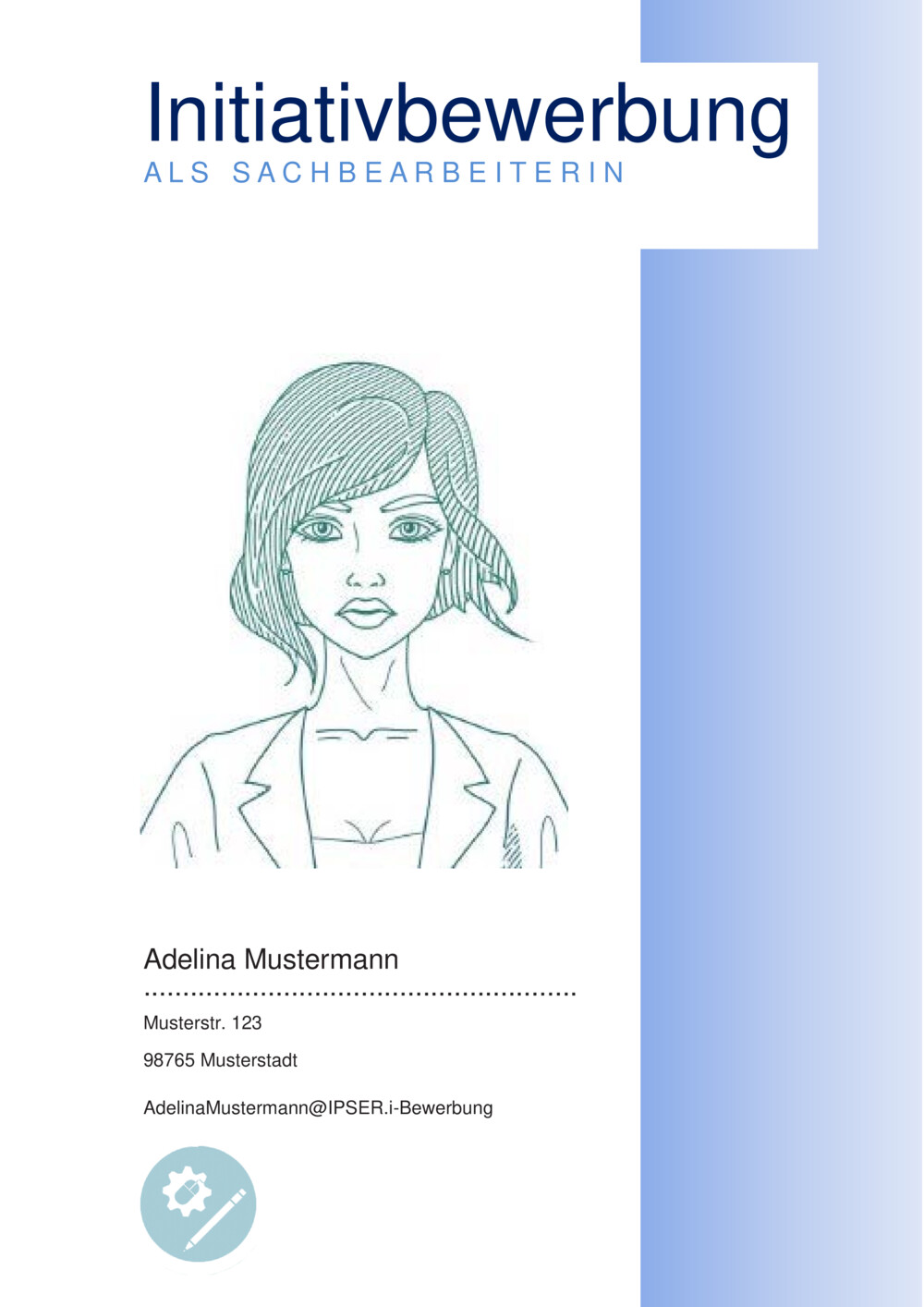 IPSER, Inter Personal Service
Supplier Developer - Cover sheet speculative application - Benedikt 636

IPSER, Inter Personal Service
Sample Cover Page as Design Engineer - Axel 634

A meaningful application photo shows you from your best side
Pictures speak louder than words, and this is especially true for job applications. Not only in the CV, but also on the cover page, you can therefore use anattractive photoadvertise yourself. To do this, it is best to choose a large-format picture that may be different from the one in your CV: this gives the recruiter a more comprehensive impression of you and your charisma.
If possible, application photos should always be staged and photographed by an experienced photographer.They can also advise you on whether a certain outfit or pose fits your profile and ideally emphasises your assets. It is also possible to have different application photos taken of yourself. You can have photos taken of you in different outfits or in black and white.
It is also particularly important that your application is aUse a photo that is not older than two years.If the recruiter notices during a personal interview that you hardly resemble the picture in your documents, this can be a cause for astonishment. In the worst case, your interviewer may suspect that you have little interest in your own application.
The right layout for your cover sheet
Once you know what information you want to include about yourself and your person on the cover page, you can start planning the layout. The design of the cover page should always match the rest of the application, you, your profession or the position you are applying for. The general rule here is:less is more.
Even if you are not formally bound to any specifications, the cover page should remain clear and radiate seriousness:
Do not overdo it with colours and shapes or fonts. This looks unserious and overwhelms the reader. Limit yourself to one or two well-matched fonts that you can also use for the rest of your application documents. We recommend using Arial or Times. With these two fonts you are on the safe side. (Fancy fonts can cause display problems for the recipient).
The layout should skilfully underline your profile, not distract from it. Therefore, discreet colour accents and a background that is not too busy are always the best choice. Too many structure elements should also be avoided.
The cover letter
In the cover letter, do what is most important in speculative applications:Publicity on our own account. You are not only presenting your professional skills, your strengths and soft skills to the company, but also yourself to a certain extent. In short: With your cover letter you have to give the employer the feeling that you have found a valuable employee, although they were not looking for you at all.
Similar to classic applications for a specific job, the cover letter of a speculative application is also subject to certain formal criteria. The letter is divided into a header, the introduction, the middle and the conclusion.
General tips for the cover letter
Avoid negative forms, questions, possibility forms
Appear confident
Do not refer to other application documents
Address the company in the polite form
Check the length of the cover letter text
Subject and salutation
In the subject line, be as specific as possible about the reason for the letter. Possible formulations here would be:
Simply: "Unsolicited application".
Position-related: "Unsolicited application for a management position".
Task-related: "Unsolicited application for the project area of department X".
Related to a desired position: "Speculative application for assistant to the management".
This way, the recipient of the letter knows immediately what you are about. For the i-application, please use "Dear Sir or Madam ..." as the salutation, as you do not have a specific contact person.
The introduction
With a speculative application you already show commitment and initiative. However, you must score points with the first sentence, your "door opener". After all, with the introduction you want nothing less than to
Introduce themselves and make the initial situation clear
Make the recipient want to know more about you
briefly present what you have to offer the company
In any case, avoid repeating the subject or using theSubjunctiveto use. Phrases such as "I would like to send you an unsolicited application for the position of ..." are also absolutely taboo. Start off confidently and in an active style (verbs instead of adjectives).
IPSER, Inter Personal Service
Your cover letter as a commercial employee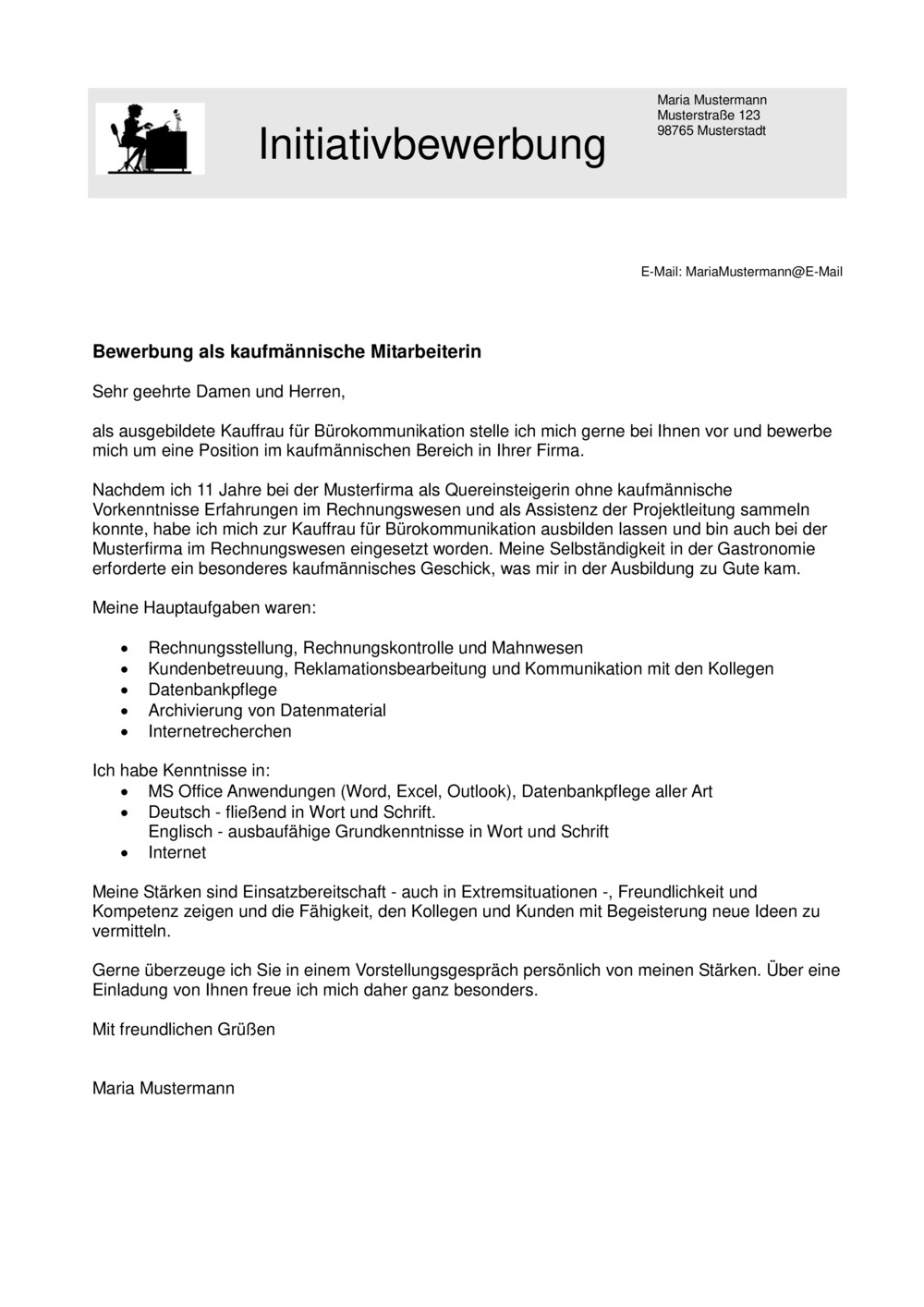 IPSER, Inter Personal Service
Design Engineer Sample Cover Letter - Axel 633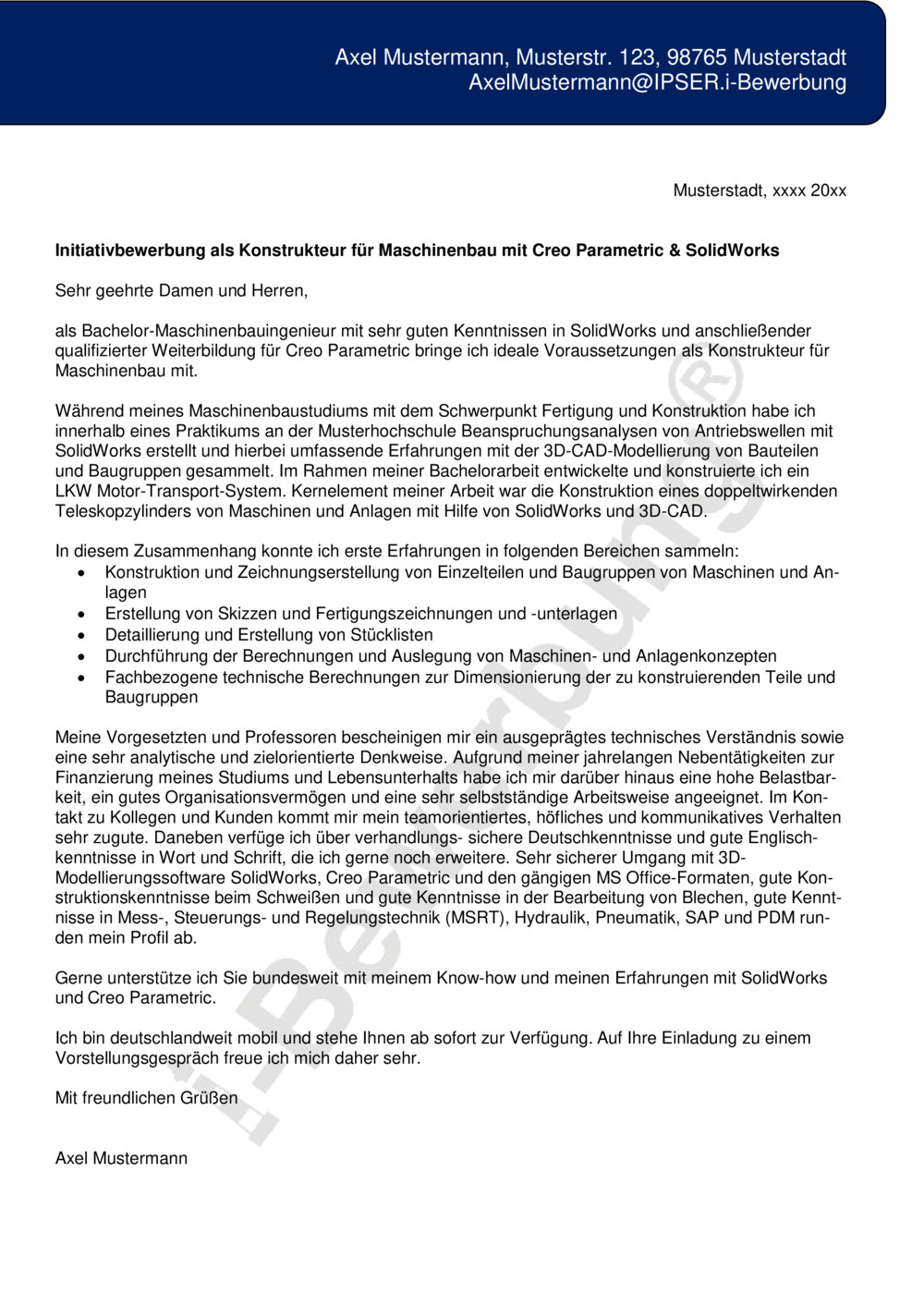 IPSER, Inter Personal Service
Maintenance Manager Cover Letter - Adriano 631

The middle section of your cover letter - making motivation and added value clear
The main part of your application is all about self-marketing and presenting yourHighlight added value for the employer. Since you do not have to formulate this part of your cover letter specifically for a certain job profile, you have a free hand: In the cover letter, inform us about what you have done so far, what you can do and by all means also what you want.
Because the main thing here is to get yourMotivationto be the focus of attention. The employer should learn what drives you, how you can put this at the service of your employer of choice and why they can benefit from it.
However, be careful not to repeat yourself. Even if this cannot always be avoided in an application, you should still take care not to bore the reader. No personnel manager wants to have to read three or four times what job you did at company XY. However, they are very interested in your personal motivation. So take advantage of this opportunity in your cover letter.
The conclusion - be proactive and be remembered
Although the closing part of your cover letter is just as important as all the other parts, this part of your cover letter is the one that will stay in the reader's mind. So summarise your suitability here again in one short sentence and express your interest in an interview.
Some useful additional information, such as a general willingness to move or the possible date of joining the company, can also convince the reader here. It is important that you appear self-confident and avoid subjunctive formulations such as "... I would be happy if ...". Stick to the active formulation: "I look forward to your invitation to an interview".
As a closing greeting, a neutral formulation is recommended ("Yours sincerely", "With warm regards"). This is polite and maintains an appropriate distance despite all the self-promotion in your cover letter. Confidential phrases such as "Best regards" or "Take care" should never be included in the closing section of your speculative application.
The curriculum vitae - your professional career at a glance
Next to the cover letter, your CV is the most important document in your speculative application. After all, nothing less is at stake here than
Your professional career
Your training
Your qualifications and soft skills
and your other skills
clearly and completely. When writing a CV, applicants often have the greatest difficulty in keeping it brief and only including the information that is really relevant. In the following, we will therefore give you helpful tips on how to structure your CV for a speculative application and which pitfalls to avoid.
IPSER, Inter Personal Service
Tip 5 Formatting CV (Tabs) Sample 551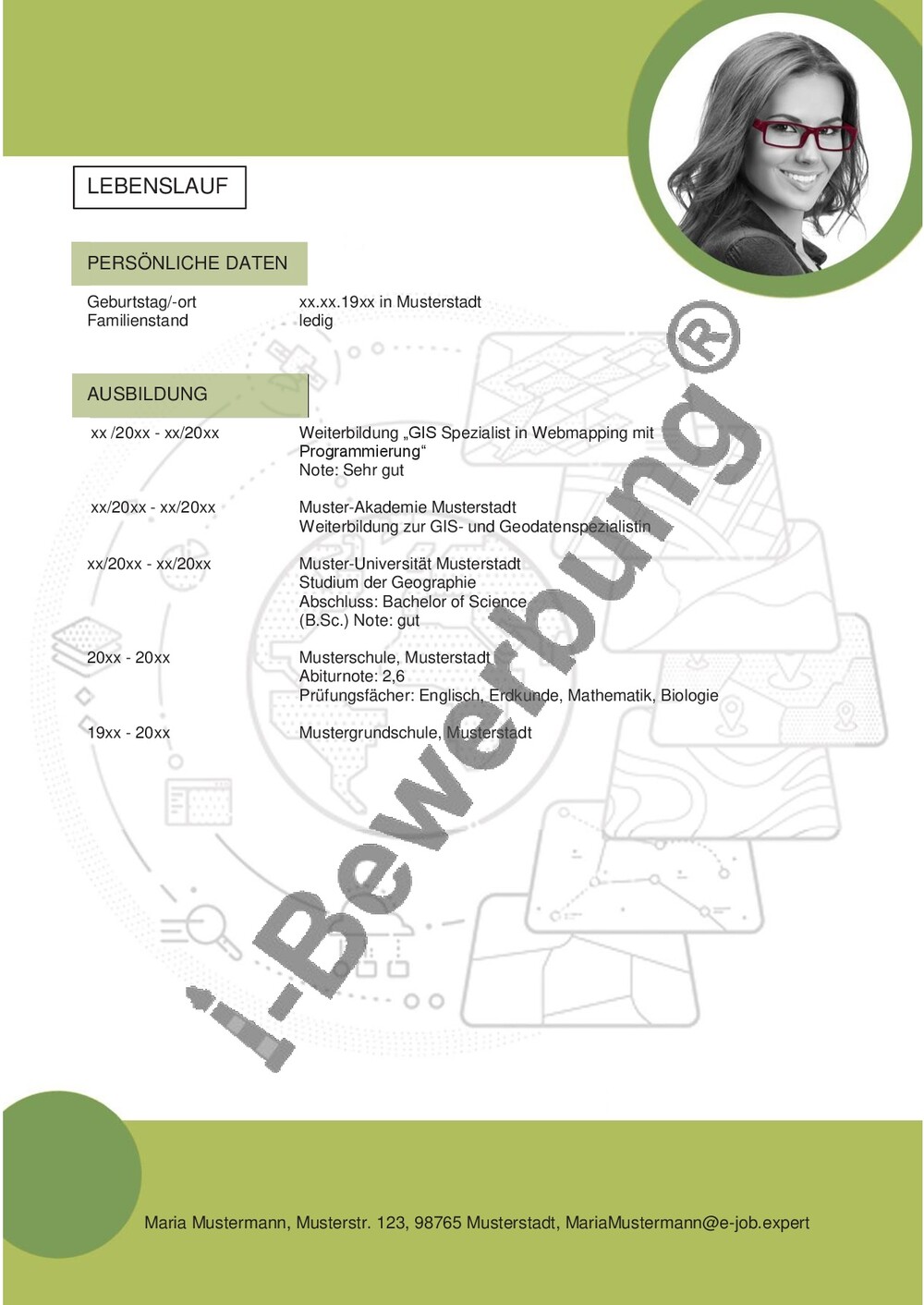 IPSER, Inter Personal Service
Design Engineer Resume Sample - Axel 635

IPSER, Inter Personal Service
Unsolicited application as Maintenance Manager Example CV Adriano 632

The basics - important ground rules for your CV
How you design your CV or what information you want to include in it depends, among other things, on how extensive your career to date is. Nevertheless, there are a few basic rules that apply to every CV:
The most important thing is at the top:The most important information on your CV should always be at the top and immediately recognisable. In addition to your name and date of birth, this includes your address and the contact details through which you can be reached. This information should not be missing from any CV.
The same looks the same:If you sort information according to certain hierarchies, these should also look the same in the layout. For example, all dates can be written in italics. If you want to structure your CV with headings, these should also be inserted in the same layout, for example with bold type. This will make it easier for the recruiter to navigate through your CV.
Refrain from design experiments:Nothing distracts more from the content of your CV than a motley collection of fonts, colours, underlining and effects. So be sure to keep a low profile here and rather score points with your knowledge and skills. Furthermore, the layout and design of your CV should match the rest of your application documents.
The CV must always be truthful:The information about your professional career and your qualifications should always be true. Therefore, do not invent knowledge that you do not have and also remain honest when listing your previous professional stations. At the latest, it will be noticed in practice that you have made false statements. This can also be a reason for dismissal.
The 4-eyes principle:How carefully you design your CV also says a lot about the prudence with which you would approach your future work tasks. Therefore, have a friend or relative read your CV, because 4 eyes always see more than 2 and you have the chance to immediately eliminate number mistakes, unclear formulations or design disasters.
Dates with year and month:If you only list the stages of your CV in years, personnel officers will be suspicious. All too often, this is an attempt to conceal gaps in your CV. Therefore, always state the month and year.
A meaningful photo:As with the cover page, the CV should show a recent photo of you. This is usually much smaller in format than the picture for the cover page, but it must meet the same formal requirements.
Your qualifications and professional experience form the core of your CV
Your CV should provide the recruiter with an overview of your education, professional experience and other acquired qualifications. Additional knowledge, completed training courses and hobbies complete the picture. Each mention should always include the period of time, the place and the name of the company or training institute.
The chronology in which you draw up the overview depends on your professional experience: If you are a young professional who has just arrived in working life, it is best to start with your training and then mention internships and part-time jobs that qualify you for the position you are aiming for.
As an old hand in the job, your education no longer has top priority; what counts are the activities and skills you have acquired in practice. In this case, start with your current or most recent job and arrange your CV in chronological descending order.
Work experience
Your professional experience should be presented as accurately and aptly as possible. This always includes aPosition description and a brief mention of the most important tasksfor which you were responsible in the respective job. If possible, you should of course select these in such a way that the relevance to the desired position is immediately clear.
For applicants without previous work experience, internships, part-time jobs or student projects can serve as proof of practical experience in the same way of presentation.
Training
Of course, the recruiter is also interested in your educational background, even if you already have several years of work experience. As a general rule, however, your primary school years and your school career are not important. What is important here isonly the highest school-leaving qualification or the highest professional qualification. If possible, you should name these first.
For school and university degrees, you may even mention the final grade - as long as it is good. If you have only recently graduated from university, mentioning the title of your thesis will provide further information about your qualifications.
Other qualifications
Your CV should contain all the information that is relevant to the position you are applying for. This includes not only your school and university degrees, but also certificates from courses and further training. If you list language and computer skills, you should also always state how profound your knowledge is in the respective area or how well you actually speak the language.
Hobbies
Opinions are divided on the subject of whether private hobbies should be listed on a CV: the fact is,that not every hobby should be mentioned in the CV. Some hobbies can ideally round off the professional profile.
For example, if you are applying for a job as an electrical engineer, your private passion for model aircraft construction or your voluntary work as a leader of a youth research group can be very convincing.
Gaps in the CV - turning alleged weaknesses into strengths
Almost no career path is straightforward and without detours. Human resources managers know this too. It is therefore all the more important not to conceal gaps and certainly not to fill them with invented activities. Atransparent handlingwith the dreaded gaps in your CV therefore removes any basis for speculation and shows the recipient that you also openly communicate difficult times in your career path.
Gaps of up to 4 months are usually no problem here.Every HR professional knows that the search for a follow-up job often takes a little time. But maybe you took an extended leave between jobs, assisted with the care of a child or a relative in need of care, or continued your education.
Nevertheless, you should not fear the longer gaps. Here, however, it is even more important that you mention this both in your CV and later in theInterviewexplain well. For example, if you have been affected by a long period of unemployment, you can describe this in your CV:

It is important that you signal determination even in the case of longer gaps and that you can also prove that you have theHave made good use of time off.
What to do when the CV becomes too long?
It is perfectly understandable if you want to present your skills and knowledge as fully as possible to a future employer. Nevertheless, your CV should neither be overloaded nor more than one page in length. You can solve the "problem" by creating additional attachments for the speculative application.
For example, a short or qualification profile is best suited for this. Here you can record relevant skills and, at best, name the current status. For many professions, such a profile is even a must. If you work as a software developer, for example, you must list your skills in detail here. Nevertheless, such a profile can be created for almost any profession. In the next chapter we will show you how.
The qualification profile - your skills at a glance
The qualification profile is often referred to as the third page of the application and is a must for speculative applications in some occupational groups and a beneficial addition for others. After the cover letter and the CV, you specify your hard and soft skills, abilities and qualifications in detail here.
And such a profile makes a lot of sense: in addition to professional hard skills, personal and social skills are also important in everyday working life. This is especially the case for positions that involve teamwork or customer contact. The profile therefore not only provides a clear presentation of your professional skills, but also serves as an advertisement for you as a well-trained professional.
IPSER, Inter Personal Service
Unsolicited application Embedded Software Developer Profile Adrian 623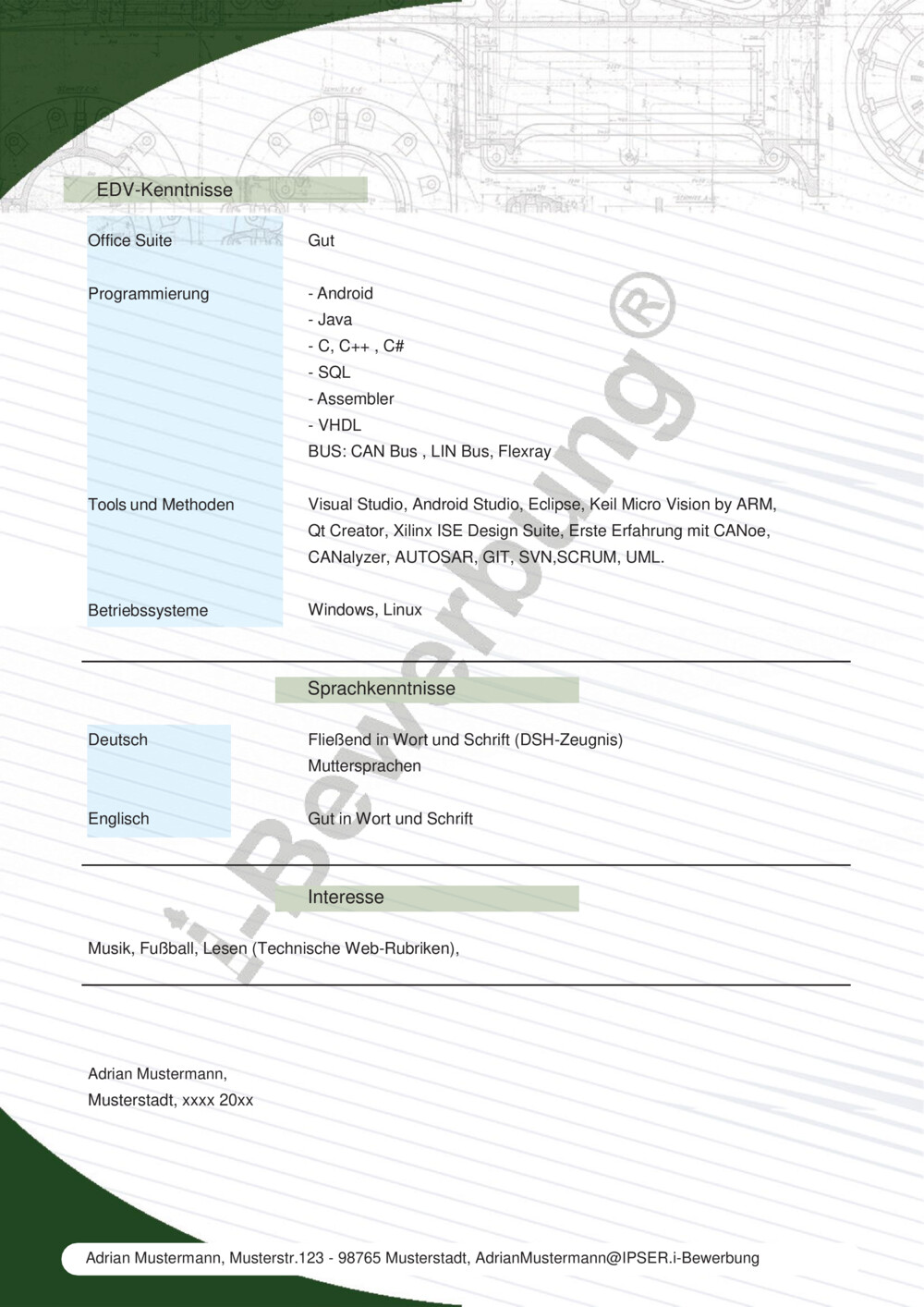 IPSER, Inter Personal Service
Your qualification profile in the application documents (603)

IPSER, Inter Personal Service
Qualification profile for application as clerk (sample 564)

Free design options for your qualification profile
You are not bound to any specifications for the creation and format of your profile. The only important thing is that the format fits the job you are looking for, your skills and the rest of your application documents.
For example, some skills can be conveyed succinctly in text form (e.g. information on social skills or quality of work), while other qualifications can be better presented in tabular form and with grading (e.g. specific programming skills). A combination of both forms is also conceivable.
Option 1: Work with performance grades
If you work as a software developer, for example, a potential employer is interested in knowing your current level of knowledge. You can record this clearly in tabular form and grade it with a self-assessment.
A clear qualification profile can also be useful for professions that require knowledge of different process, production or treatment techniques.
Option 2: Sort by competence categories
If hard and soft skills are to be shown together on the qualification profile for your unsolicited application, the competences can also be presented sorted by category. Here, the focus should always be on the competences that are most relevant for the job.
So if you think that your good communication skills, for example, are the most important for the job you want, put them first and put your hard skills in another category in second or third place.
Option 3: Separated according to fields of competence
If you were able to gather extensive knowledge from different professions in your professional career or if you were also entrusted with tasks that were not part of a specific training course in previous jobs, you can also build up your qualification profile according to fields of competence.
To do this, for example, you gather technical skills in one field, summarise commercial knowledge in another and present competences in personnel management in a third.
For applicants from the IT sector, the creation of a so-called qualification profile is a MUST.
Die Initiativbewerbung auf den Weg bringen - Fertigstellung & Checkliste
You've almost made it! Once you have gathered all the relevant documents for your speculative application, combine them into a PDF file in the correct order. This not only has the advantage thatall the documents relating to your application are gathered in one placebut also comes across very positively to the recipient: The recipient does not have to click through countless file attachments to find important information.
Make sure that the file is not larger than 3 MB, as e-mails with oversized attachments often cannot be delivered.
To help you keep an overview and successfully submit a speculative application, we have compiled a small checklist for you here, which you can also download free of charge in PDF format:
In the case of cooperation withIPSERmany of the steps listed are taken away from you:
We optimise your application documents and send them out.
You do not have to worry about the return of applications, we automatically forward all positive responses to you.
You simply take care of the appointments for your interviews.
The most frequently asked questions about speculative applications
When should you follow up on a speculative application?
On average, companies need 28 days from the first interview to hiring - if the job was advertised beforehand. In the case of a speculative application, you should therefore give the company a generous amount of time to process your documents. Only after 2 to 4 weeks should youfollow up.
Should I write an additional cover letter in the application e-mail or is the cover letter from the application documents sufficient?
Theoretically, you can also use your cover letter as an email text and also adopt the subject. Practically, however, an additional text in the email offers you another opportunity to draw curiosity and attention to yourself and your skills. Above all, it is important that you never send an e-mail without an introductory text.
I am interested in several areas within the company. Can I make a speculative application for all of them at the same time?
In principle, this is possible, but not recommended. If you list several areas of work as your dream job, it will seem rather arbitrary and unfocused. Instead, highlight your greatest strengths and formulate convincingly why you want to work for this employer.
The cover letter of the speculative application should be fresh and interestingly formulated and, if possible, should not contain any empty phrases. But how "casual" can you really be in an unsolicited application?
The general rule here is: You may and should definitely appear fresh and unspent with your application and choose formulations that make the reader curious about you and your skills. However, what is considered "casual" and what is not is always in the eye of the beholder.
Above all, it is important that you remain authentic and do not lose sight of your strengths, motivation and goals despite all the unusualness in your expression. In addition, you should always observe the principles of politeness and maintain a professional distance from the recipient: All too chummy greetings, well-intentioned advice or even nicknames have no place in even the liveliest speculative application.
The certificate overview
Include only the three most important work, education or certificates with your application.
If you were to attach all references/certificates etc., this would certainly exceed the file size limit of 3 MB.
For the certificates that are not attached, please create a certificate overview. Especially if you have many years of professional experience and therefore have various references or certificates, this overview is advantageous because the employer can see your qualifications much more quickly and clearly from the reference overview.
IPSER, Inter Personal Service
The certificate overview - overview and problem solving

IPSER, Inter Personal Service
Certificate overview in the application of young professionals

IPSER, Inter Personal Service
The best place for references in a speculative application